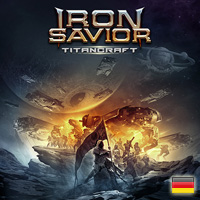 Titancraft (hellfire-magazin.de)
Seit 1997 veröffentlichen Iron Savior in (mehr oder weniger) gleichbleibenden Abständen klasse Alben. Ich kann mich noch sehr genau daran erinnern, wie ich mir das Debüt zugelegt hatte und extrem begeistert war.
Genauso begeistert bin ich nun auch vom neuen Werk "Titancraft".
Iron Savior sind ihrem Stil (Gott sei Dank) treu geblieben und bieten dem lechzenden Hörer wieder eine geballte Ladung Geschwindigkeit gepaart mit astreinen Melodien.
Das Level der elf Songs ist von gleichbleibender hoher Qualität und man serviert fantastische Hymnen (Beyond The Horizon" oder "Brother In Arms") im Wechsel mit Speedkrachern ("Titancraft", "Way Of The Blade") oder als vorletzten Song der geilen Ballade "I Surrender", übrigens mit einen hammermäßigen Gitarrensolo.
Das Werk klingt dann galoppierend mit "Rebellious" aus.
Als Hörer würde ich sagen: Erwartungen erfüllt, keine Enttäuschung, überzeugende Songs.
Im Sinne der Band lehne ich mich mal aus dem Fenster und sage: Ziel erreicht!!
Tracklist:
Under Siege (Intro)
Titancraft
Way Of The Blade
Seize The Day
Gunsmoke
Beyond The Horizon
The Sun Won't Rise In Hell
Strike Down The Tyranny
Brother In Arms
I Surrender
Rebellious
Videoclip "Way Of The Blade": https://www.youtube.com/watch?v=sKnRFAIHda0
Homepages: www.iron-savior.com
Facebook: https://www.facebook.com/ironsavior1996/?fref=ts

Author: Jörg Schnebele
Source: https://hellfire-magazin.de/1812-2/