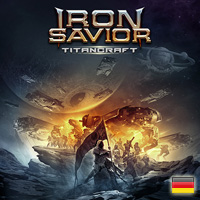 Titancraft (powermetal.de)
Möge der Titan mit dir sein
Nachdem Tausendsassa und Mastermind Piet Sielck im vergangenen Jahr "Megatropolis" wiederauferstehen ließ und "Live At The Final Frontier" die Live-Qualitäten von IRON SAVIOR wunderbar unter Beweis stellte, kommt der Hamburger Jung nun zwei Jährchen nach "Rise Of The Hero" mit einem neuen Studioscheibchen zurück. "Titancraft" ist das nunmehr neunte der Sielck-Mannschaft und wenn wir einmal ehrlich sind, hat uns Piet in Sachen Qualität noch nie enttäuscht.
So enthält auch das Titanenhandwerk einmal mehr fabelhaften Kraftstahl mit hohem Hymnenfaktor, hier ein paar Breaks, dort tolle Chöre und dank der saftigen Produktion kommen Songs wie das superbe Titelstück, 'Way Of The Blade' oder das rasante 'Strike Down The Tyranny' auch wunderbar zum Vorschein. Doch blickt man einmal genauer auf "Titancraft", so sind es speziell die Wagnisse, die dieses Album zu einem Besonderen machen. 'Gunsmoke' als Western-Hommage oder die wunderbare Ballade 'I Surrender'. Sielck agiert enorm mutig, hat Songs komponiert, die von Mal zu Mal wachsen und an Stärke gewinnen, ohne dabei jedoch die bandeigenen Trademarks außer Acht zu lassen.
Woher der Kopf der Bande neben all seinen weiteren Verpflichtungen noch die Zeit findet, ein Album wie "Titancraft" zu veröffentlichen, bleibt mir ein Rätsel. Und nicht nur musikalisch, sondern auch konzeptionell überlässt IRON SAVIOR nichts dem Zufall: Hier verhilft die Titancraft dem wiederauferstandenen Hero zur Schlacht, dort werden Brücken speziell zum Vorgängeralbum geschlagen, man kann es drehen und wenden wie man will: "Titancraft" ist abermals ein hochinteressantes, musikalisch abwechslungsreiches und saucooles Album geworden. Punkt.
Author: Marcel Rapp
Note: 9.0
Website: https://powermetal.de
Source: https://powermetal.de/review/review-Iron_Savior/Titancraft,28116,28175.html